Skip to main content
We're Here for You American Electric Power is committed to the health and safety of our customers, communities and employees as we closely monitor the COVID-19 pandemic. Learn more
×
April 21, 2020
With 40,000 miles of transmission lines and a service territory of 200,000 square miles in 11 states, American Electric Power has a lot of neighbors, and they're not always the human kind. By planting native seeds on some of this land, AEP is creating new homes for pollinators and other wildlife.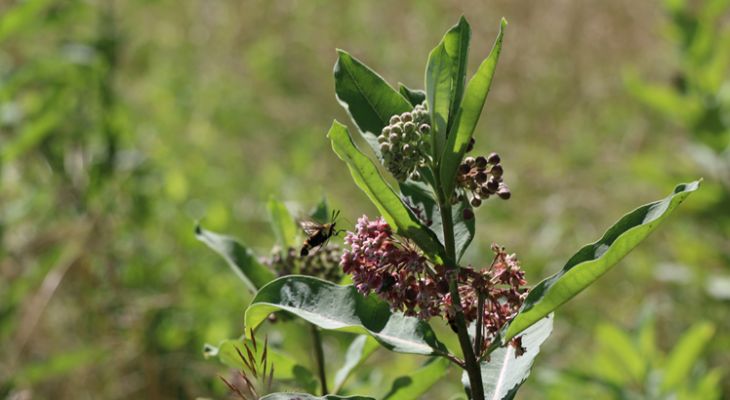 Transmission lines deliver high-voltage energy across long distances. An important part of ensuring reliable energy is keeping the land below and around the transmission lines, or right-of-ways (ROWs), clear of trees or brush. AEP is testing use of native plant seeds instead of "traditional" grasses to revegetate ROW construction sites. The deeper, dense roots of native grass and wildflowers improve soil stability, helping to prevent erosion, while possibly reducing the need for mowing and maintenance. Native grasses and wildflowers also are ideal habitats for pollinators such as bees, butterflies, birds and other insects, which play a vital role in flowering plant reproduction and in the growth of most fruits and vegetables.
AEP is testing native seed mixes across our service territory. We've launched the Native Seed Mix project, a three-year evaluation that includes regionally specific vegetation test plots in Clear Creek Metro Park in Hocking County, Ohio, as well as in our Appalachian Power and Public Service of Oklahoma Company service territories. Seeds also have been planted at the Dawes Arboretum in Newark, Ohio, a collaborative project between the arboretum, AEP and the Electric Power Research Institute (EPRI).
Our transmission headquarters campus in New Albany, Ohio, also has become a spot to experiment with native plants. With help from the Ohio Department of Natural Resources, Audubon Society, National Wild Turkey Federation and Pheasants Forever, we planted a demonstration plot with seed mixes to support birds, pollinators, deer and turkey.
In Kentucky, AEP has turned a former fly ash pond into a thriving wetland. The Big Sandy Fly Ash Pond Closure project enhanced 2.10 acres of existing wetland and created an additional 0.33 acres after the Big Sandy facility converted from a coal-fired plant to natural gas. Construction to expand a naturally occurring wetlands area began in late 2018 with milkweed, cattails, grasses and other native plants to create a haven for pollinators.
"We planted 850 shrubs and 1,500 other plants, and it is all protected," said Steve Wells, an environmental engineer for AEP. "We're seeing butterflies, insects, frogs, birds, deer and other wildlife. The area is abuzz with activity."
Learn more about AEP's commitment to delivering reliable energy while promoting environmental stewardship.