Skip to main content
December 14, 2021
SWEPCO's Patrick Hicks named AEP Hero
Patrick "Petey" Hicks, a Southwestern Electric Power Company troubleman in the Valley District, recently received an AEP Hero Award.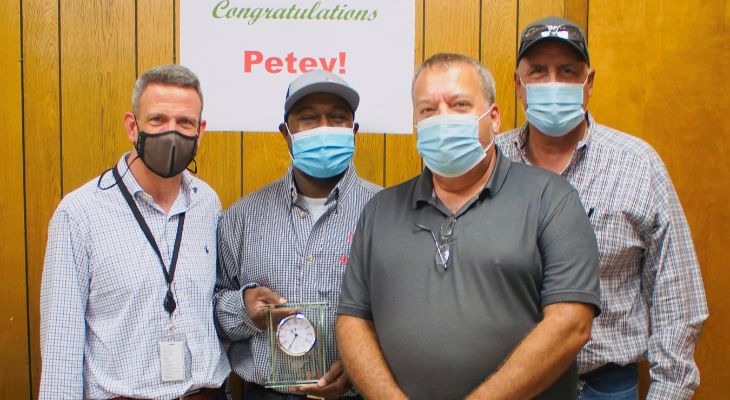 The award recognizes an employee who took courageous steps to save the life of another person, but whose own well-being in doing so was not under extraordinary risk.
"Not everyone gets the opportunity to save someone's life," said Malcolm Smoak, SWEPCO president and chief operating officer. "Petey is obviously a special person. He was put in the right place at the right time to help someone."
Hicks was nominated by Louis Burr, Distribution System Supervisor -- Natchitoches.
On Nov. 4, a black sedan zoomed past Hicks while he was driving on a rural Louisiana highway. The sedan veered off the right side of the road, traveled over a driveway, went airborne and then hit a fence. The car struck several trees before crashing into a ravine, according to the local sheriff's office.
When Hicks saw the accident, he parked his truck, grabbed his first aid kit and ran toward the car. He found two young men seriously injured.
One man's leg was broken. His bone had punctured his skin, and he was bleeding heavily. Hicks grabbed a shirt from the car, made a tourniquet and applied pressure to the wound. Hicks slowed the man's bleeding until the paramedics arrived.
A sheriff's deputy said Hick's actions prevented the young man from bleeding out. The deputy attributed Hicks with potentially saving the person's life.
Hicks always has an eye on safety. Just a few weeks before, Hicks drove up on a gentleman who was about to tie a chain to a tree. The tree was laying on an energized line and burning. Hicks stopped the man before he might have been injured or electrocuted.