Skip to main content
We're Here for You American Electric Power is committed to the health and safety of our customers, communities and employees as we closely monitor the COVID-19 pandemic. Learn more
×
May 28, 2019
Celebrating 100 Years of Service With Acts of Appreciation
Kentucky Power contributed $5,000, numerous volunteers and mounds of food to Power Up the Pantry, a daylong community effort to replenish depleted area food pantries.

"Food pantries historically have more requests in winter and the recent flooding some areas have experienced increased demand so stock is low," said Cindy Wiseman, Kentucky Power's managing director of External Affairs and Customer Service. "The community response since we announced the project about a month ago has been wonderful. Together, we are going to be able to help many people in need."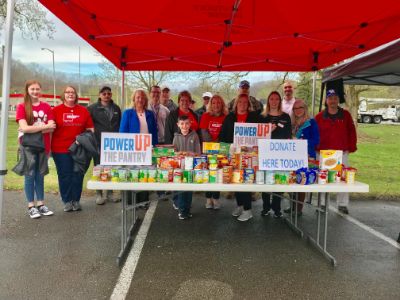 Kentucky Power organized Power Up the Pantry as part of its 100th anniversary celebration and as one of its largest 100 Acts of Appreciation planned for the year. Kentucky Power then partnered with Anthem Medicaid, Appalachian Regional Healthcare, the City of Hazard, the City of Prestonsburg, Big Sandy Community and Technical College, Hazard Community and Technical College, God's Pantry Food Bank, New Hope Church, and WYMT (see newscast).
The event collected 7.5 tons of food and more than $17,000 in monetary donations, enough for about 152,000 meals. Even Hazard schoolchildren participated with schools competing to collect the most goods. Donations made in Prestonsburg went to God's Pantry, which operates distribution centers in Prestonsburg and London that serve food pantries in eastern Kentucky. Hazard donations went to New Hope Church Emergency Food Pantry, which also is served by God's Pantry. The businesses joined forces on the food drive to have the largest community impact.
"When you stop and think about it, we at Kentucky Power are very fortunate and blessed to have a meal every single day," said Kentucky Power President Brett Mattison. "We have families in our communities who go to bed hungry at night. It pulls on the heartstrings and it is something all our employees got behind. We are a vital part of the community and we want to make sure we are involved as much as we can be to give back. We hope that Power Up the Pantry will continue to grow and grow throughout our territory for years to come."
One in six residents in Kentucky struggles with hunger and are unsure where their next meal will come from, according to God's Pantry Executive Director Michael Halligan.
Last fiscal year, God's Pantry supplied 34.5 million pounds of food and 13.6 million pounds of fresh produce to more than 400 food pantries and meal programs in central and eastern Kentucky. The Prestonsburg warehouse serves Pike, Floyd, Johnson, Lawrence, Magoffin, Letcher and Martin counties. The warehouse stores orders until local agencies can pick them up for distribution and also has fresh produce delivered for agencies to access. God's Pantry also operates a warehouse in London that serves Perry and other southeastern Kentucky counties.
Halligan said events like Power Up the Pantry are critical.
"There are so many people in central and eastern Kentucky who are hungry, over a quarter of a million people," Halligan said. "Power Up the Pantry helped us to restock some of the supplies that had been used over the harsh winter months. And it provided an opportunity for people in the community to be involved. I often tell people you don't end hunger in a food bank. You end hunger because community members and partners like Kentucky Power are passionate about making a difference in someone else's life."