Skip to main content
We're Here for You American Electric Power is committed to the health and safety of our customers, communities and employees as we closely monitor the COVID-19 pandemic. Learn more
×
June 04, 2019
When Sean Sproul, a member of AEP's Pride Employee Resource Group (ERG), learned about a Dragon Boat Race as part of the Asian Festival in Columbus, he was intrigued.
"I was inspired by the AEP Now photo of the day on Oct. 16. It was of Kortena Kulich's team winning a Dragon Boat Race in Paducah, Ky.," Sproul said. "I was curious to see if we could get a team together to do it here. I thought it would be a great way to build teamwork and demonstrate AEP's values of diversity and inclusion to the community."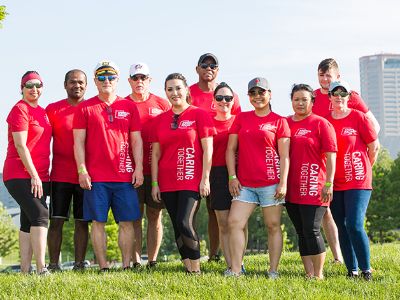 Sean's idea spread quickly. AEP has seven ERGs, one each for employees who have interests in people with disabilities and military/veterans families, as well as Latino, African-American, Native American and sexual/gender identity. Eventually, the team was filled with members from all the groups. It was a fantastic showcase of diversity and inclusion. Nalini Rupert, chair for Asian ERG, arranged the logistics with the Columbus Asian Festival organization for AEP to compete in the race, and partnered with Sproul to connect with other ERG leaders to create a team that included all ERGs.
Sean, a senior settlements analyst in AEP's Commercial Services, coordinated a team of 21 employees (19 rowers and two drummers). Rower Greg Ewbank, member of HOLA ERG, also recruited three alternates, and it's a good thing. The team needed contributions from all members.
The race took place May 18-19, just before the Memorial Day weekend. An hour of coaching and practice runs took place Saturday Scioto River in downtown Columbus. Race heats and finals took place Sunday from early morning to late afternoon. Races were run from West Bank Park on a 300-yard course.
The Asian Festival, sponsored in part by the AEP Foundation, provided each team with a boat, paddles, flotation vests, safety briefing, coaching and a person to steer. AEP Ohio provided lunches to the team.
The team started Sunday with safety and culture moments. Jeff Sweet, rower and a member of the Abled and Disabled Allies Partnering Together (ADAPT) and /Military Veteran Employee Resource Group, emphasized boating and weather safety, since there was a possibility of lightning. Cindy Detraz, drummer and Asian American ERG member, chose trust for the culture moment. Detraz pointed out that the team was able to build a level of trust by opening a dialogue of candid input and sharing. This, in turn, made the team more comfortable and willing to help each another. Charles Patton, rower and executive sponsor of the African American ERG, led participants in stretching exercises before each race.
Of 24 competing teams, AEP's team came in 11th place.
Each team raced in two qualifying heats against two other teams each. Qualifiers raced in a division final. In its first heat, AEP beat NiSource with a time of 1:26:55. AEP also placed first in its second heat with a time of 1:28:29. In its division final, a Chase Bank team edged AEP by about three-tenths of a second.
Several team members, including Patton, executive vice president, External Affairs, described the experience:
"It was inspiring," Charles said. "People of varying ages from numerous organizations came together to do something none of us had ever done before. From the safety moment to the culture moment at the beginning of the day emphasizing trust, it represented the best of AEP; a group of diverse people with varying talent coming together to execute the task at hand."
Varun Palaniswamy, engineer, AEP Transmission and Asian American ERG member, said, "It was such a great experience and privilege. I'm pretty sure everyone in the team felt the same. I met most of the team members for the first time the day before the race, and everyone was so friendly and caring. One of the best things, and the key to our success, was the trust we had in each other."
"Rowing as a team is very important – the number one thing is synchronization," Sean said. "With rowing, it's not how big or how strong you are, it's whether you can work well as a team. If one rower gets out of sync, it can affect the entire boat. An additional challenge on Sunday was the wind. We had to row against a pretty stiff headwind, and it made the water really choppy – it was tough."
Family members, friends and co-workers came out to watch the races. "It was a true team effort, and a great personal development challenge," Sean said. "The teamwork, bonding and collaboration made it all worthwhile."
Team members were: Lisa Blair, Jake Butler, Amy Clipperton, Robert Dawson, Cindy Detraz, Amy Ewbank, Daniel Ewbank, Gregory Ewbank, Glori Fitch, Sriharsha Hari, Roy Hoy, Karen Loy, Shridher Kolli, Saimani Matta, Rebecca Naugle, Varun Palaniswamy, Charles Patton, Jason Reid, John Ritterbeck, Dave Rupert, Terry Skiba, Sean Sproul, Jeff Sweet and Sinuon Todd.
The Columbus Asian Festival draws 100,000 visitors on Memorial Day weekend. The non-profit organization promotes cultural diversity through cultural exhibits, community services such as free health screenings, and educational activities on healthy lifestyles, Dragon Boat Race, martial arts and other features.