Skip to main content
We're Here for You American Electric Power is committed to the health and safety of our customers, communities and employees as we closely monitor the COVID-19 pandemic. Learn more
×
August 14, 2019
AEP OnSite Partners Stuff Backpacks for Kids in Need
AEP OnSite Partners recently volunteered at the NBC4 "Stuff the Backpack" initiative to help stuff backpacks with school supplies. The program works to ensure local K-12 students in central Ohio have the necessary school supplies to start the upcoming school year. The American Electric Power Foundation is a sponsor of this program, which benefits 25 school districts across Franklin and Licking counties in Ohio.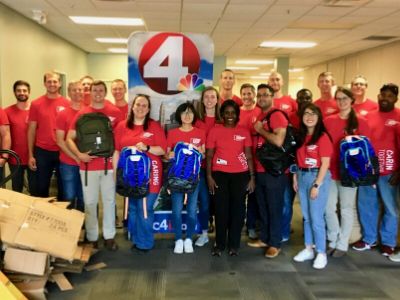 The AEP OnSite team unloaded pallets, organized assembly lines and stuffed backpacks with school supplies for three hours. While the work was not easy, it was very rewarding for the team members and was a great way to bond with coworkers as well as a good cause.
"We were a well-oiled machine! We all seemed to understand how important it was that those kids got their school supplies and it feels very rewarding to know that we helped them get their school year started off on the right foot," said Andrew Gough, an AEP OnSite Partners development team member.
Last year, the NBC4 backpack drive collected and assembled 50,000 backpacks for students. This year the initiative has expanded from one district to benefit 25 school districts across Franklin and Licking counties. This created a much larger need for both supplies and volunteers in order to successfully meet the challenge.
"We're building a culture at AEP OnSite where we care about our community and demonstrate it by rolling up our sleeves and working together. I'm very proud of the team's efforts last week to help support this worthy cause," said Joel Jansen, AEP OnSite Partners chief operating officer.
You can learn more about the NBC4 "Stuff the Backpack" program at https://www.nbc4i.com/stuff-the-backpack/.