Skip to main content
We're Here for You American Electric Power is committed to the health and safety of our customers, communities and employees as we closely monitor the COVID-19 pandemic. Learn more
×
August 20, 2019
AEP Employees Cycle for a Cure During Pelotonia
Every year during the first weekend in August, it's easy to feel like bicycles outnumber cars in central Ohio. Riders in colorful cycling jerseys, many emblazoned in company logos and an eye-catching arrow, fill some of the area's most well-traveled roads. This year, 7,484 cyclists, including AEP employees, took to the pavement during Pelotonia with one goal in mind: end cancer.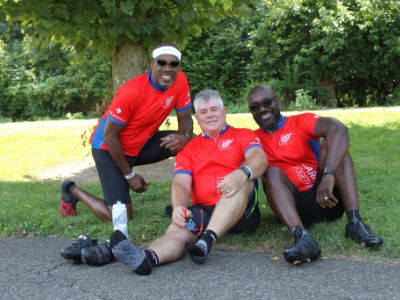 Founded in 2008, Pelotonia's objective is to fund life-saving cancer research through year-round fundraising culminating with a three-day experience of cycling, entertainment and volunteerism. The American Electric Power Foundation has been a major supporter of the event since 2010 with its latest gift funding $500,000 in grants for 2019 and 2020. Gifts from the Foundation and other organizations ensure 100% of every rider-raised dollar goes toward cancer research at The Ohio State University Comprehensive Cancer Center – James Cancer Hospital and Solove Research Institute.
This year, AEP Energizers for a Cure peloton included 70 riders, eight "virtual" riders and three volunteers who raised nearly $128,000 leading up to the big weekend. Fundraising for Pelotonia 2019 concludes on Oct. 4, 2019.
Registered riders pledge to raise a certain amount of money depending on the route they select, which range from a 25 mile ride to a 200 mile overnight ride. For the inaugural Pelotonia in 2009, AEP's peloton had a small but mighty team of 15 riders. Eleven rides and approximately 45,000 miles later, AEP Energizers for a Cure is on track to surpass $1.2 million in total money raised for cancer research.
Callie Dunn, transmission settlements manager with AEP Transmission, has participated since the first ride. Like countless other Pelotonia participants, she cycles in memory of a loved one she lost to cancer.
"My dad was diagnosed in spring 2008 with esophageal cancer," she said. "He battled it with radiation, chemotherapy and surgery. In October 2008, my dad was in remission and he was strong enough to walk me down the aisle and dance with me at my wedding. Then in spring 2009 the cancer was back and had spread. He fought through several more rounds of chemo, extending his limited time with us. He lost his battle in February 2010."
Dunn said she felt helpless for most of her dad's illness, but saw Pelotonia and its motto "One Goal: End Cancer" as an empowering opportunity to stage her own war on the disease.
"I knew the treatments were painful and hard, but he never complained," she said. "It's tough watching a loved one go through that. In summer 2009, I heard about Pelotonia, and I knew I had to do it. It's a way I can personally stand up and fight cancer."
Nathan Long, plant manager, AEP Ohio Wind and Joint Venture Generation, and AEP Energizers for a Cure team captain, had the opportunity to experience first-hand how logging miles on a bike has translated into progress in the battle against cancer.
"I toured the James Cancer Research Center, heard presentations from researchers and talked to them about the impact Pelotonia has had," he said. "Applying for federal grants is difficult because much of the research must already be complete prior to making the application and have a high probability of success to be awarded grant money. In other words, many great ideas are never researched due to lack of funding. Pelotonia funds have allowed researchers to be creative and research not only conventional, but also unconventional ideas in the pursuit of a cure. One doctor estimated Pelotonia has advanced research at the James by as much as three years."
Money raised has funded promising advancements like the groundbreaking clinical trials of a now FDA-approved treatment of chronic lymphocytic leukemia and mantle cell lymphoma, and the founding of the Pelotonia Institute for Immuno-Oncology, an initiative aiming to accelerate advanced cellular therapies that harness the immune system to fight cancer.
In total, the non-profit has raised nearly $198 million since its inception. Beyond the potentially life-changing developments it's made possible, Pelotonia itself means much more for those who ride, volunteer or even just watch on the sidelines.
"Riding alongside cancer survivors, some who have suffered through difficult treatments, reflecting on loved ones, folks along the route holding signs of thanks and encouragement – it's an emotional, heartfelt, life-changing experience," Long said.
Photo Credit: Pelotonia