Skip to main content
We're Here for You American Electric Power is committed to the health and safety of our customers, communities and employees as we closely monitor the COVID-19 pandemic. Learn more
×
January 14, 2020
Four-year-old Liam Chavez made no effort to contain his excitement as they entered. "Oh my gosh," he bellowed. Then, the only sound in the room were his mother's low sounds of joy as the family of four joined in a group hug.
AEP Texas employees joined Habitat for Humanity of Laredo and others in helping the Chavez family dedicate their new home. A $50,000 grant from the AEP Foundation provided primary funding for the home, and AEP Texas employees helped frame and complete construction of it.
Alex and Jasmine, their son, Liam; and one-year-old daughter, Ihana; now have a home. A dedication ceremony for the Habitat for Humanity of Laredo home was held Dec. 14.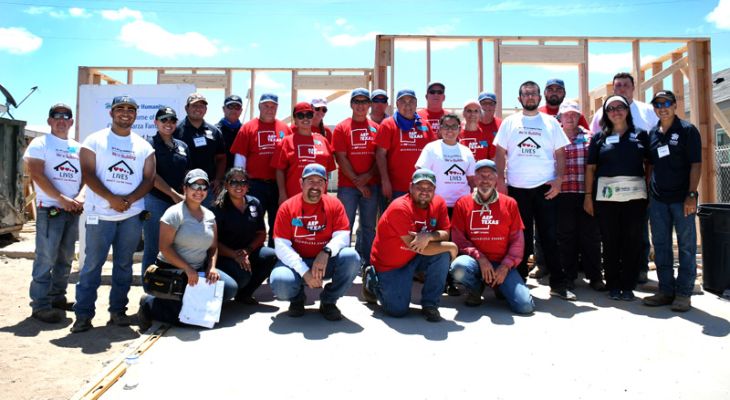 "I don't know how to put it into words. Everything is amazing" Alex said. "We are blessed to have the help and blessed to have this for our children," he said gesturing at the interior of the new home. "There's just so much joy knowing that my kids are going to have a home and we're not going to have stay at an apartment just renting," Jasmine said.
Habitat Executive Director Carol Sherwood estimated that the family moved from a two bedroom apartment of no more than 600 square feet. The new three-bedroom two-bath home totals 1,165 square feet. The couple put in over 500 hours of "sweat-equity" in order to secure a no interest loan to pay their portion of the cost.
"The AEP Foundation really came through," Shewood said. "Tony Arce (AEP Texas external affairs manager) worked with us for quite a while to take us through the process so that we would be able to receive a full house sponsorship."
Sherwood noted that the home was the fifth built by Laredo Habitat this year and would not have been possible without the $50,000 contribution from the AEP Foundation, meaning that the Chavez family would have waited until sometime next year to move into a new home.
She emphasized that the Laredo agency has a long-standing relationship with AEP Texas employees, most notably with Mark Ochoa, senior customer distribution design technician and current board president. "He is the most dedicated and caring person. I met him 25 years ago at a Habitat site. He walked up with his tool belt, and he never left. Since then, he's been in multiple capacities and serves as our current board president.
"He is one of the best leaders I've ever seen," Sherwood continued. "In a world of wonderful people, he is very special. Wise and thoughtful in in his approach, he's there for everybody."
Ochoa said the dedications are very emotional. "Normally, the family has not seen the home for several weeks prior to the dedication. So, it's quite a shock for them. It's very emotional but very satisfying.
"This is why I've been involved for 20-plus years," Ochoa added. "It's just so good to see the change in the families. The kids blossom in school. It changes their lives."