Skip to main content
January 06, 2022
Water Rescue Leaves Woman, Dog, Unharmed and Grateful
"If I had a million dollars, I would give it to him" is what Sharon Caldwell said about Kentucky Power's Brian Combs after he rescued her from a sinking vehicle in the Kentucky River.
Combs, a line mechanic-A, was working the Saturday before Christmas and traveling alone toward the Hazard Service Center when he came up to a dire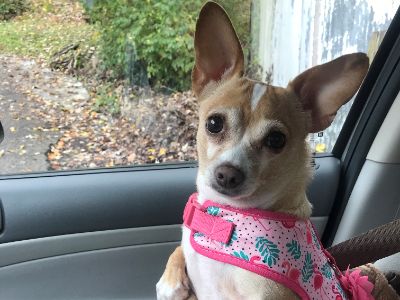 looking situation. Caldwell, who had been driving along what is locally called the "dipsy doodle curve," had gone off the road and over a steep embankment, landing in the river that runs along East Main Street in Hazard.
A few people were assessing the situation when Combs arrived.
"I knew there wasn't time to wait on emergency rescue to arrive, so I grabbed a rope from my vehicle, tied it around my waist and told the others to hold it from the bank," Combs said. "I helped just like I would for a co-worker in need, for a pole rescue or any other situation. The on-the-job safety training we receive definitely came into play."
Feeling as if he had a good plan and knowing he had a secure way out of the river, Combs waded in to help the trapped Caldwell.
"There was a bit of a current and the water was over my head at times but I always felt safe," Combs said.
The car was wedged against a rocky area and water was rising inside the vehicle. Combs got the driver's side door open to reach Caldwell. With Caldwell's purse and eight-year-old Chihuahua, Sugar, in tow, Combs was able to get everyone safely back to the bank. No one was injured.
"I would have drowned had Brian not rescued me. I can't swim. I was praying out loud to be saved, and I heard someone say help is on the way. I was facing the other way and couldn't see him coming to my vehicle," Caldwell said. "He was so calm and focused. I just know that God placed Brian where he needed to be that day. I am alive today because of Brian Combs."
Caldwell said she was particularly struck by his willingness to take a risk to help a complete stranger and that she will always be indebted to him.
"After he carried me on his back to the bank, I remember wanting to tell him that I was fully vaccinated and not to worry. Our brains are funny at times. I'm just so thankful for him."
"Brian's actions are truly heroic and he is to be commended for his quick thinking and actions that clearly saved a life. We are very proud of him and relieved it had the happy ending it did," said Greg Sparkman, Hazard district manager. "It's not in Brian's or his co-workers' DNA to stand around when someone needs help. This community should be very proud to have employees like we have, who are there when needed."
Just a year or so before, a similar accident occurred in the same location and manner resulting in a fatality.
"Saying thank you is never enough. He is a hero and I want him to know that if he ever needs anything, I am here for him," Caldwell said.