Skip to main content
February 11, 2022
Right Place at the Right Time: APCo Line Mechanic Saves Man from Burning Building
A hero has to be brave, courageous and self-less. Possess the ability to put the needs of others before their own safety, regardless of the risks. And most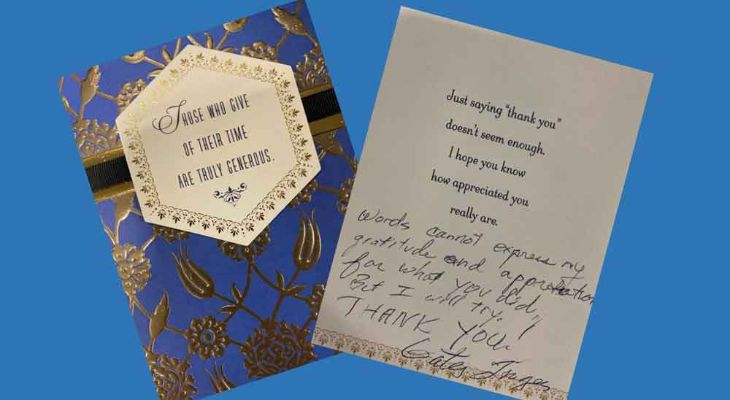 important, they need to be at the right place at the right time.
When Charleston Line Mechanic-A Jeff Cooper blindly rushed into William Linger's burning home in late January, the sequence of events leading up to his heroic moment were nothing short of remarkable.
"I wasn't supposed to be there," Cooper said. "I've thought about that a lot since it all happened. A lot of different things could have happened that would have put me anywhere but near his home that night. I'm just glad that everything worked out the way it did."
"When I got inside the house, I heard someone yelling 'I'm up here, what's going on," Cooper said. "So I went upstairs and saw an elderly man sitting at the kitchen table. I asked if he could see the smoke filling up his house. And that's when he told me he was blind in one eye and could barely see out of the other."
For starters, Cooper was working the night shift only because he's been filling in for a co-worker. The night of the incident, Cooper was heading home and decided to stop off to check on a part power trouble ticket. That's when he noticed the smoke coming from the vents of Linger's attic. Without hesitation, Cooper entered the home and immediately started yelling to see if anyone was home.
Cooper helped Linger, who had a bad back and bad knees in addition to his limited vision, out of the house after confirming there was a fire in the attic. Once out of the house, he called first responders and gave them his location.
According to Cooper, the ambulance showed up in no time, but had the wrong location, so he ran down the hill to redirect them. When he got back, he said he was shocked to see (or not see) where his recently rescued customer had disappeared to.
"I couldn't find the man anywhere," he said. "He was sitting outside the house when I ran after the ambulance, but when I got back, he was gone. I looked up at the house and saw a flashlight in the window. So I ran back in and there he was. When I asked him why he went back in, he looked at me and said he wanted a bottle of water."
After bringing the homeowner out of the house twice, calling Linger's homecare provider to update her on the situation and sticking around to handle cutting the power while firefighters put out the blaze, Cooper took no credit for his actions.
His supervisor, Greg Chambers, however, said that Cooper's self-less act of heroism is exactly what he would expect out of a lineworker.
Chambers is also the distribution system supervisor to John Hughes and Brandon Johnson, two Charleston employees that pulled a motorist from a burning vehicle about 15 months ago.
"I think it's just in the DNA of a lineman," said Chambers. "In order to be a lineman, you have to want to serve the people. It has to be instilled in you to do whatever it takes to help the people in the communities, no matter what the risk. Jeff, as well as all the other guys that I've worked with in my nearly 30 year career, have that mentality. When someone needs help, they don't hesitate."