Skip to main content
March 13, 2019
Raise Strong Daughters, Then This Happens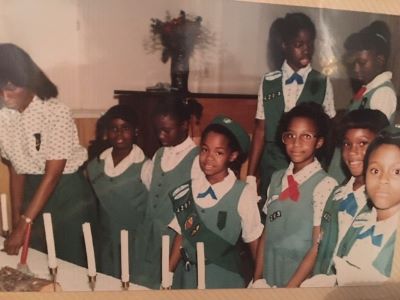 As a little girl growing up in Houston, Texas, Kimberly Hughes' mom urged her to "learn how to carry yourself and be a strong leader." Heeding her mother's advice, Kimberly joined the Girl Scouts, which marks its 107th anniversary as Women's History Month wraps up.
Kimberly's mom found success in the corporate world and believed strong girls grow up to be strong women. Her mother walked the talk and joined the scouts with Kimberly, as a troop leader.
For the next 12 years, Kimberly blossomed. She learned to find courage in the face of daunting challenges, whether pitching a tent or mastering high school geometry. She learned to make friends in a room full of strangers. She practiced turning ideas into action and celebrated progress as well as success.
"The Girl Scouts gave me the advantage of having had leadership experiences, and being goal- and task-oriented," said Kimberly, an AEP environmental engineer who works on air permitting and compliance for power plants in Arkansas, Louisiana and Texas. "I learned that from the Girl Scouts – how to run a meeting, how to get things done… how to make things better."
Twenty-five years later, Kimberly is passing on to a new generation of young girls the same lessons. Inspired by her mother's example, Kimberly leads a Girl Scout troop in Dallas/Ft. Worth, her 10th consecutive year of paying it forward. Kimberly loves the opportunity to make a difference for tomorrow's leaders, especially those who want to pursue science and technology careers.
"Little girls need to know their worth is not on social media or what people say about them," said Kimberly, who recently took her troop to tour AEP's Pirkey Power Plant in Hallsville, Texas, as part of a project. AEP and the AEP Foundation is a longtime benefactor of the Girl Scouts, including the national conference, the Heartland Council of Ohio and numerous Girl Scout troops competing in FIRST Robotics (For Inspiration and Recognition of Science and Technology).
"I wanted to make it my responsibility to ensure that the girls within our troop knew they can do it," Kimberly said. "We have a young lady that came through our troop who is now a chemical engineering student at Prairie View University and another one at the University of North Texas studying pre-med. My own daughter is wanting to pursue a career in Food Science/Food Engineering."
Kimberly's history with the Girl Scouts repeats itself in another way. Her daughter is pursuing the vaunted Gold Award, the highest achievement bestowed by the Girl Scouts. Kimberly is a Gold Award recipient - one of just a million Gold Award achievers since the organization's founding more than a century ago.